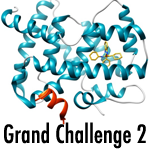 A participant has asked for a way of submitting predictions for just a subset of the ligands in a free energy set.  
To do this, please write "NoPred" (case-insensitive) in the FreeEnergies.csv file, in place of the computed affinity for the ligand in question. You can leave the corresponding uncertainty value blank.
Note, however, that a submission that is missing predictions for some ligands will not necessarily be evaluated together with the complete submissions.